---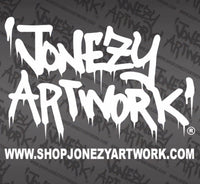 Custom logo for your business/ clothing line 
album covers 
logo designed vectored and business ready!
JONEZYARTWORK has created over 65 fantastic logos for companies all over the world .
get your dream turned into reality with a fresh logo by JONEZYARTWORK 
Logo/ Album Cover/ Album Singles/ Design 
includes:
*black n white version  
*full color version 
*saved in any formats you need 
*logo saved on my computer for 2 years for any edits or addition work.
*100% quality
*mock ups til your satisfied